ASANCO providing Contract Logistics Services: For Import goods
ASANCO JSC are confidence to delivers flexible, customizable warehousing and distribution solutions.
IMPORT PROCEDURE:
Firstly, we apply our S.O.P to handle import shipments to Vietnam, Before stock in all goods to warehouse our customs brokerage team handle carefully the papers, EDI and procedure to make sure correct data for clearing customs then get releasing shipments  and arranging truck fleet driver sending goods to warehouse for next steps of distribution.
Promtly, our S.O.P that indicate as table below: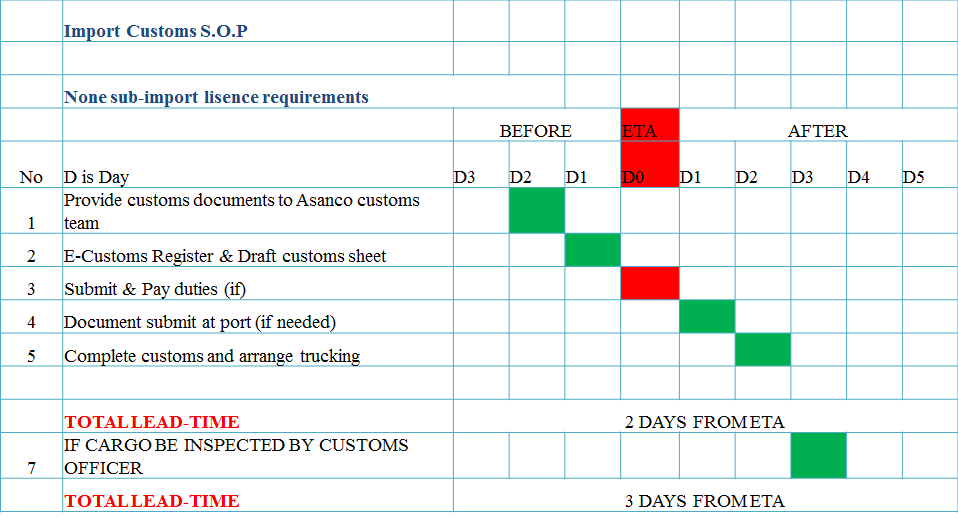 WAREHOUSING
Whether utilized for short-term or long-term goods storage, or integrated with our logistics management
and supply chain solutions, our warehousing services provide tailored solutions for companies in search of
strategically located facilities for optimized service.
DISTRIBUTION
Our flexible distribution solutions include comprehensive nationwide transportation,
strategic warehousing, inventory control, order processing and other value added services
for efficient inventory management.
Integration with our trusted forwarding and customs clearance services allows customers the benefit of
a single, one-stop total logistics management distribution solution.
AIR SEA ASIAN JSC – ASANCO
Add: 5 Dong Da Str, Ward 2, Tan Binh Dist, HCMC, Việt Nam
Tel: 028 22539680 Fax 028 22539681
Web: www.asanco.vn